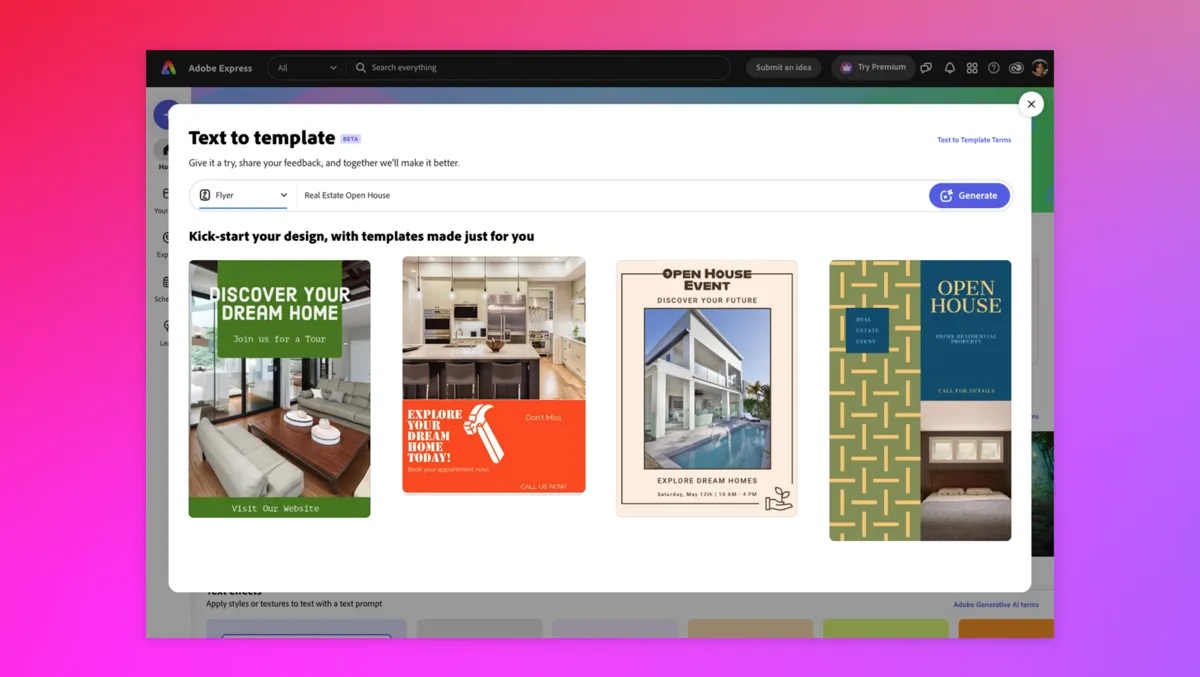 New AI tools to boost creativity on Adobe Express platform
A bounty of new AI innovations are set to turbocharge creativity for all users, as Adobe reveals its latest additions to Adobe Express. Unveiled at Adobe MAX, the world's largest creativity conference, the fresh AI-powered Generative Fill and Text to Template offerings, coupled with enhanced Translate and Drawing and Painting features, have been designed as a playful stimulus to content creation.
Users will find the new, Firefly-driven Generative Fill a revelatory assistant, enabling them to insert, remove, or modify any element in an image with a simple description. Also, the next-gen Firefly Design Model design assists with the efficient creation of easily editable templates in seconds. Even more attractive is the new Translate feature, offering a choice of 45 languages and saving valuable time in localising content. The novelty factor comes in with over 50 multicolour decorative brushes and student-friendly drawing templates, making the design of graphical elements like flowers or hearts straightforward and speedy.
This ground-breaking generative AI is not just an exciting tool for individuals, but is also reshaping business content creation. Millions of users globally have already used Express to create a dazzling range of content – from engaging social content, book reports, and resumes to powerful marketing campaigns. The scope of use ranges from students and solo entrepreneurs to small businesses and large-scale enterprises.
"The groundbreaking AI-first innovations in Express are empowering our Creative Cloud members and creators of all levels to bring their ideas to life in completely new ways that are fast, easy and fun", stated Govind Balakrishnan, senior vice president, Adobe Express and Digital Media Services at Adobe. "We're excited to be rolling out even more revolutionary AI-first capabilities across image creation, design, video, audio, PDFs and more, in the coming months."
Recent performance data reveals that Express has experienced a notable 55% increase in active monthly users, quarter over quarter. Its synergistic relationship with major Adobe applications such as Photoshop, Illustrator, Premiere Pro, and Acrobat has been a significant factor in integrating and streamlining asset management.
Furthermore, evidence of its efficacy is illustrated through the testimonies of Maureen Raisch, Creative Director at the National Women's Soccer League (NWSL), and Lee Prior, Head of Tesco Creative Studio. The former praises Adobe Express as a comprehensive resource for scale solutions, providing an impressive array of design tools, and the latter as a tool that enables Tesco to work efficiently and scale effectively, particularly in producing on-brand digital content for their customers.
The new Express offerings are a boon to larger enterprises as well, with Express now directly integrated into AEM Assets, enabling employees across an organisation to generate content efficiently. A boon for small businesses and students, the Express for Teams feature allows easy planning and publication of standout content.
Adobe's partnership with Wix and Google Chrome offers another level of accessibility for users. Resources are effortlessly managed through the Wix Media Manager, creating a seamless workflow for users. Also, Adobe Express is now available on Google Chromebooks across the U.S, aiding students and teachers in their multimedia class projects.
All the latest offerings, including the new Express for the desktop, are now available for use. Users of existing Creative Cloud are offered the Express Premium plan. The Express and Firefly enterprise offering is also available for use.